Do you know about the Napoleon war? The most important feature of Napoleon's various tactics was that Napoleon's infantry was able to move at twice the speed of the enemy. This maneuverability is thought to be because soldiers were able to eat fresh food even though they were at war, because of the hidden achievements of Nicolas Appert.
Nicola Appert was born in 1749 near Paris, France, as the ninth child of a poor couple who had no formal education and ran an inn (Famous birthday, 2019). He has been interested in cooking and cookie making since he was a child and has become interested in how to preserve food while studying food. This interest later led to him being called "the father of canning." He worked as an apprentice to a bakery from an early age and as a cook for 12 years in Paris, France, in 1784.
While studying food, he came up with a number of ways to preserve food on a long-term basis, taking into account the nutritional value of food that has been altered, costed, salted, dried, smoked, or cooked. In 1795, he invented a method to preserve food through a sterilized glass bottle 60 years earlier than Pasteur, a food conservationist (Wikipedia, 2019). The method was to boil glass bottles with cork in various time zones after reinforcing them with wire and wax. This method of preservation fell short of gaining much attention at first, but it gained huge popularity with the French navy at the time. The French army at the time of the war was the biggest problem with the food supply, or the supply of fresh food, because of the large battlefield. Because of these problems, the soldiers were dying of malnutrition or scurvy. For these soldiers, the food preservation method that Appert invented allowed them to eat fresh food and won a prize for winning a contest for Napoleon's method of storing food. Since then, Appert has established the world's first glass bottle canning plant near France, employing up to 50 people from less than 10 employees (Wikipedia, 2019).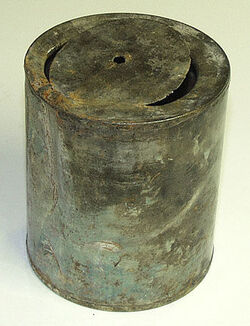 Food conservation methods, such as the ones he discovered, are having a profound impact on our lives, from soldiers in the past war. Many foods preserved by conservation methods such as canning are still sold to many restaurants. This is because it is advantageous for transportation and storage and can preserve fresh materials for a long time. In case of tomato sauce or canned beans that can easily be spoiled, it can be distributed to many restaurants and homes in large quantities through canning. Since food can be preserved for a relatively long period of time, it can dispose of food that goes bad everyday and buy only the right amount of food ingredients to reduce the burden of food management compared to the past when all food had to be used within time. The discovery of food preservation is a major innovation in the food industry, as well as the ability of ordinary households to cook the preserved foods that they bought in advance at any time of their choosing, without the need to get food ingredients every day.
Nicolas Appert. (2019). En.wikipedia.org. Retrieved from              https://en.wikipedia.org/wiki/Nicolas_Appert
Nicolas Appert. (2019). Famousinventors.org. Retrieved from            https://www.famousinventors.org/nicolas-appert
Nicolas Appert – Bio, Fact, Family. (2019). Famous Birthdays. Retrieved from              https://www.famousbirthdays.com/people/nicolas-appert.html